Recent weeks have been incredibly interesting at SimplyBook.me and the team has been pumping out many new, very important features. These updates and enhancements are further enhancing it's status as a world class software and one of the strongest and most flexible business solution for service providers available.
Recent developments
Google Reserve bookings
Facebook and Instagram bookings
Booking.page marketplace
New appointment scheduling app
Related resources
Extensive Zapier connection upgrade
Rescheduling
Seats left
Deposits
So lets now discuss these developments so readers gain a better understanding of what each of them means.
Google reserve bookings
This feature makes it possible for your clients to find you in google search or in google map and quickly book you. Unfortunately Google imposes various limitations making this less useful than it could be. For example it is not possible to require certain information to be filled before confirming booking, it is not possible to require payment, as only delayed payment bookings are allowed, membership bookings are not possible, and finally, not all types of businesses are accepted into this program such as medical related businesses.
Facebook and Instagram bookings
This feature makes it possible for your clients to find you and book in Instagram feeds or in your Facebook posts and quickly book you. There are no imposed limitations and everything that you have set up in the scheduling software will work when the client makes the booking. This is a perfect feature to expose your availability in more channels to get even more bookings. However, using this as your only channel of bookings is not recommended as this will make limitations in exposure so keep this in mind and think about maximizing your exposure for existing and future clients while keeping costs low.
Booking.page marketplace
The booking.page market place is yet another way to expose your business in more channels on the internet. Not only can you be found in this channel, but reviews that you may be getting for your services in your SimplyBook.me system can show on your business profile, creating further social proof that you are running a great business. The Booking.page also has a beautiful design and exposes your business and makes you bookable with the awe effect that every business loves to give clients. So in short, yet another booking channel, exposing your services to more clients, and displaying more reviews in your Google business profile.
New SimplyBook.me admin app (in alpha)
Many years ago SimplyBook.me offered users both iOS and Android admin apps to see and manipulate bookings and clients. These apps worked but they were not awesome, and often buggy, so SimplyBook.me scrapped them and focused on making the system more mobile friendly. This is how it has been working now for many years but users wanted native app, and interestingly one of the most searched word relating to SimplyBook.me was "APP" showing us that this was indeed needed. SimplyBook.me put the best programmers on creating this new app and the outcome is beautiful, incredibly fast app that our super users are already using and giving feedback. In early March 2020 these apps will be downloadable for all and be available in multiple languages.
Related resources and bookings
A feature requested by both small and large business through out the years but never got the priority in development as other things were deemed more important. Finally, it has been added and can now been used in various cases where service bookings need to be limited not only by the service provider availability but also by some other resource or even more than one resource. The feature has been create so flexible that it is amazing! A service booking can depend on several resources such as both the availability of a room and equipment. A different quantity of resources can even be required by different services and once a ressource runs out, other services that depend on this resource are no longer bookable. If you have dependent ressources, you will absolutely LOVE the related ressource feature!
Zapier … we love you!
Zapier integrationn has been available for many years, and this connection was upgraded last year to be even more powerful, but now the ultimate upgrade has been done. You can now sync not only clients and booking information but also all sales, with details over to Zapier. Why should you care about this … Well, this allows you to sync your sales in SimplyBook.me to your accounting software, allowing for quicker reconsolidation and data entry. Try this one out, because it is simpler than it sounds.
Rescheduling of bookings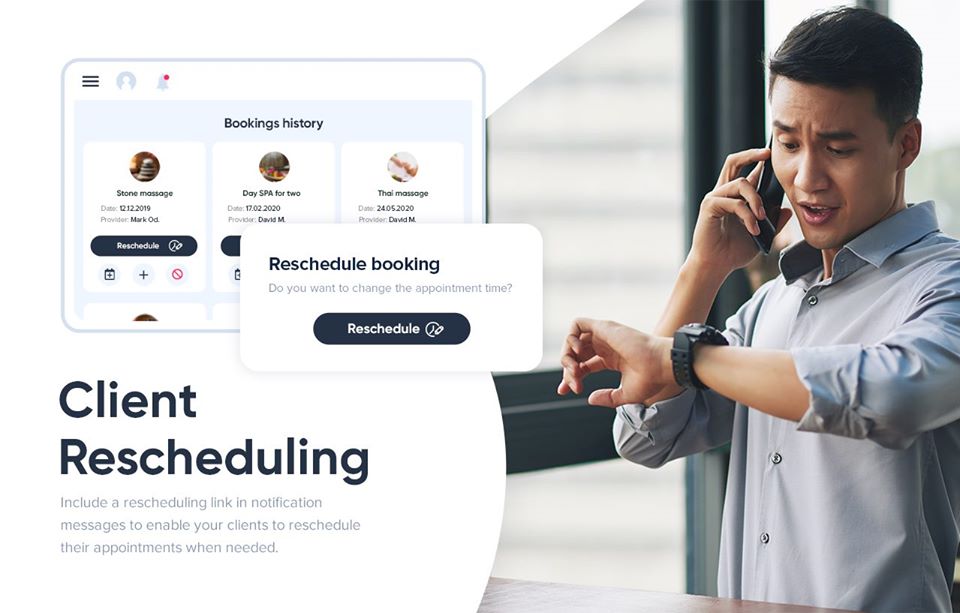 Clients have always been able to reschedule their bookings by simply cancelling their old booking, and then make a new one. The admin side has always been able to easily reschedule bookings to new slots and between providers so this was never a very large issue. However with increasing online payments, it become important that the client would be able to reschedule his booking to a new slot without having to pay again, or for the back end user to process refunds because of second paid appointment. This feature has now been added and clients can now easily reschedule their bookings (if within the allowed period of the company), by simply clicking the reschedule link.
Displaying seats left
Many users that have events, escape rooms, classes, VR experiences and similar want to show their clients how many seats are left in each bookable slot. This is now possible, and users can decide to show both seats left and the total seats offered in each slot. This is a very nice feature for those accepting many different clients at same time for same experience.
Deposits
The deposits feature helps businesses to collect money upfront and thereby guarantee the attendance of client or some compensation in the case of a no-show. Users can decide for each of their services if a deposit is required and then if so, how much the client shall pay upfront. The system takes care of all invoicing related to the deposits so you can track the payments coming on your account, whether it is a deposit or full or final payment for the service. This is especially good feature for popular services, and service providers that will see lost revenues in the case the client does not show up. You can read more about how to set up deposits for your services by clicking here.