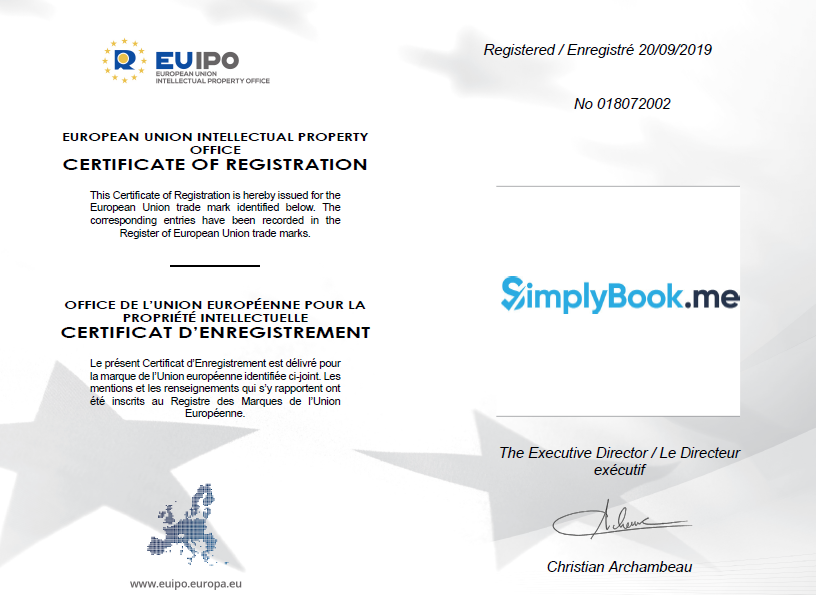 The SimplyBook.me logo is now a registered trademark in the European Union. The application was sent in early this summer and was certified in September 2019.
The SimplyBook.me software has now been running for many years and is getting to be known in many countries around the world so it only makes sense to trademark the logo that is now being used for couple years.
The logo being used now is however not the original logo and in the first years of operation the logo changed several times as well as the name of the software.
The original name was DoReserve.com. This name was chosen as we could not find any good available .com domain names but as you probably know Dot com had been the king of domain names. An icelandic company that had gained some international traction was called DoHop.com so having Do in the name seemed to make sense and trying to launch an international software without .com seemed kind of impossible.

TechCrunch wrote an article about a start up from Netherlands that was gaining a lot of traction, and that had received $1 million in funding. Surprisingly they had a domain name with .me, and name referred to how easy it was to sell stuff. We also noticed that they had very simple registration process, much simpler than ours. We had yet not gained any traction at all, and thought we had little to loose to try a name change. The .me domains were still not all sold and we found SimplyBook.me to be available. This sounded great and referred well to what we were selling. We also simplified our registration process and launched … SimplyBook.me!

And it worked …. people who accidentally found us (we had no money for advertising) started to sign up and some started to use us. Many seem to have started to refer us to friends and finally some comparison sites and technical bloggers started writing about us. The snowball had started and we were getting some tens of signups per day which was quite an achievement we thought.
Time passes and we get more and more visits, more and more signups and we think that maybe our logo could be better. A second SimplyBook.me logo is born.

We used this logo for a while or until we could afford to hire an external professional graphic designer who was working with our own graphic designer, as well as a brand marketing expert to redo the whole branding of SimplyBook.me. Through this work we finally got the logo that is now a trademark.

So this was a short overview on the SimplyBook.me trademark logo.